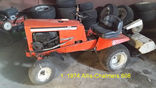 The following are a collection of vintage lawn and garden tractors. Click on "Read More" for details
For more information on any of the following vintage lawn tractors, please call 780-672-7649
1. 1974 Allis-Chalmers 608 w/32" tiller & 36" deck. 4speeds forward and 1 reverse. Engine has been totally rebuilt, crank ground and cylinder re-bored, new piston assembly and con rod. Totally tuned up besides plus carb kit, etc. This unit somehow lost 2 gears in my backyard, but we do have another transaxle assembly that will go with this unit. We also have a spare deck & two tiller attachments that can be sold separately.
2. 1973/74 AMF 836 w/ 36" deck. 3 speeds forward, 1 reverse. Model# 12811200-AAS ser# 4-212001
3. John Deere R72 (this rider was produced between 1984 and 1986)
4. Massey Fergusson 16 hp hydrostatic tractor w/ 48" deck (1974-1976). Hydraulic lift, electric clutch and hi/low range transmission and more. Engine and deck have been rebuilt. Been parked and shedded for at least 9 years. This is a running machine. Has had an extensive tune-up.

For more information, please CALL John at 780-672-7649 or Contact us!