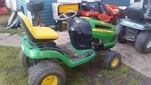 Parting out John Deere tractors! Click on "Read More" to see more models
John Deere LA105, blown engine but rest of parts available
John Deere 135 22hp lawn tractor w/ 42" deck
John Deere L130 23hp twin cylinder w/ 48" deck
John Deere 140H3, with 3 hydraulic valves. Blown engine. Tiller and deck available.
John Deere 185, no tranny, but engine, deck and assorted parts available
John Deere 322
John Deere LX186 hydrostatic
Also available: parts for John Deere 111, 160, 314, 316, & 318
Other makes of tractors are also available for parts. Check out our
wrecking ad
!
Call John at
780-672-7649
for price and availability.