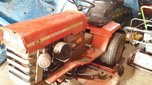 This vintage tractor is running, and ready to go. Click on "Read More" for details!
Massey Fergusson 16 hp hydrostatic tractor w/ 48" deck (1974-1976). Hydraulic lift, electric clutch and hi/low range transmission and more. Engine and deck have been rebuilt. Been parked and shedded for at least 9 years. This tractor just had a major tune up, including an oil change, new plug and air filter, new points condenser, cleaned carb in gunk and reinstalled new carb overhaul kit, drained fuel tank and fuel line, reset carb settings and rpm. This tune-up would have been a $300.00 shop repair, minimum. Wanting $1795.00 or nearest best offer. This is a collector's piece. Serious inquiries only.

For more information, please CALL John at 780-672-7646 or contact us!