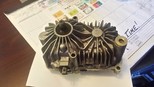 This is a brand new, never used transmission. For details, please click on
​"Read More"
​Brand new, never used Hydro Gear transmission (#BDU-10L-122), but not in the original packaging. Fits some Craftsman and AYP products, and various other models of tractors. This transmission retails at $1095.00. My actual cost is $750.00. A great deal at $695.00. Shipping available.
For more info call John at
780-672-7649
.