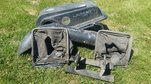 This 36" grass catcher is ready to go! Click on "Read More" for more details!
This 36" grass catcher came from a 10 hp Landmark 36" lawn tractor. This has all the pieces and is ready to rock and roll. As an MTD product, it might fit other lawn tractors made by MTD. It's in good shape. (Dust is free of charge) QUICK SALE! $195.00
For more information, please call John at
780-672-7649
or
Contact us
.